Hello! :) I'm trying to update the blog more often because I don't have anything to do and I decided to share with you some things.
First of all! There's out a new Seventeen book! yayy! :D A few weeks ago I wanted to get a fashion book - I ended ordering the Teen Vogue Handbook, I haven't received it yet, but when I get it, I will talk about it!- and I found one from Seventeen very useful, it gave you ideas about what to wear in each moment, for example, what to wear for school, for an interview, for a date... but I saw the release date and it was in 2008! so I didn't get it. Today I checked Seventeen.com as the usual, and I saw that they had released another book! It's called 'Seventeen Ultimate Guide To Style' so if I like the Teen Vogue book, I will get this one from Seventeen! :)
Here's a picture of the book and a video!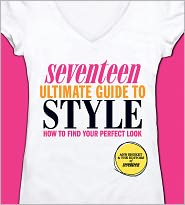 Oh I've just found another book from Seventeen with healthy tips! my mum will want me to read this hahah, I might ask it for Christmas... mmm I don't know!
Are you going to get this Seventeen book? do you have the other ones that I mentioned? :)